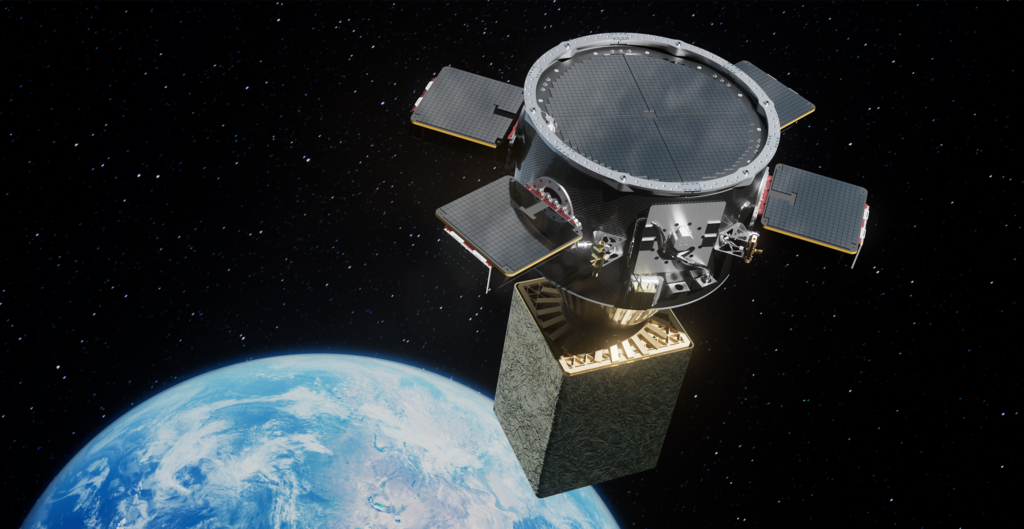 Launching aboard Firefly's Alpha vehicle, mission will demonstrate the responsive capabilities of Firefly's Elytra orbital vehicle and Xtenti's FANTM-RiDETM payload dispenser
Cedar Park, Texas, August 8, 2023 – Firefly Aerospace, Inc., an end-to-end space transportation company, today announced a new agreement with Xtenti, LLC, an innovative space logistics company, to conduct a responsive space mission with Firefly's orbital vehicle, Elytra, and Xtenti's small satellite dispenser, FANTM-RiDE™.
Scheduled to launch in 2024, the mission supports Xtenti's follow-on study contract with the National Reconnaissance Office (NRO) to demonstrate FANTM-RiDE's rapid payload reconfiguration capabilities prior to launching on Firefly's Alpha vehicle and performing multiple responsive on-orbit deployments on Elytra.
"Firefly is honored to support this critical mission that will further advance our nation's responsive space capabilities and debut Firefly's Elytra vehicle that's filling a void in the on-orbit servicing market," said Bill Weber, CEO of Firefly Aerospace. "As the first of many missions utilizing multiple Firefly vehicles, this operation will lay the groundwork for Firefly's end-to-end mission services, proving our capabilities to rapidly launch, maneuver, and deploy satellites at a time and place of our customers' choosing."
Upon launching on Alpha, Firefly's Elytra vehicle will utilize the FANTM-RiDE dispenser to first deploy commercial rideshare payloads in Sun-Synchronous Orbit, and then perform an on-orbit maneuver and stand ready to deploy U.S. government payloads on-demand. Formerly known as Firefly's Space Utility Vehicle, Elytra offers a more robust vehicle line to provide rapid on-orbit mobility, hosting, and services when and where customers need them.
"Responsive delivery of space capabilities to orbit needs a paradigm shift, and Xtenti is excited to demonstrate two of FANTM-RiDE's game-changing capabilities that enable responsive space," said dan Lim, President and CEO of Xtenti. "FANTM-RiDE not only enables rapid launch with its Rapid Rideshare Reconfiguration (R3) capability that eliminates slow and costly analytical barriers to fast payload hot-swaps, but it also enables on-orbit pre-positioning of payloads already stored on orbit for quick deployment on demand."
Xtenti's Flight Agnostic Non-interfering, Tunable Mass Rideshare Dispenser Equipment (FANTM-RiDE) enables customers to add, replace, or remove payloads from a manifest within hours before launching without invalidating existing mission loads analyses. With a predetermined common interface, FANTM-RiDE also enables entire loaded dispensers to be quickly interchanged between launch vehicles. FANTM-RiDE further protects multiple payloads on-orbit within a container that can open and close on-demand.
As Firefly's second responsive space operation, the mission offers additional rideshare opportunities for commercial customers. Firefly is currently working to complete the final readiness milestones for its first responsive space mission for the U.S. Space Force before entering the stand-by phase and waiting for the 24-hour launch notice.
About Firefly Aerospace
Firefly is an end-to-end space transportation company with launch, lunar, and in-space services. As an all-American company headquartered in central Texas, Firefly is focused on delivering responsive, reliable, and affordable space access for government and commercial customers. Firefly's small- to medium-lift launch vehicles, lunar landers, and orbital vehicles provide the space industry with a single source for missions from low Earth orbit to the surface of the Moon and beyond. For more information, visit www.fireflyspace.com.
About Xtenti
Xtenti is a big-thinking provider of paradigm-shifting hardware and services to enable streamlined and affordable space access solutions, empowering customers to innovate beyond the realm of current possibilities. Xtenti seeks to lead successive paradigm shifts in space logistics to make space substantially more accessible, bringing solutions that stabilize the spacelift market thru schedule assurance, and foster new ways to fuse space capabilities with terrestrial industries to improve life on earth and enable humanity to spread to the heavens. Reach us at www.xtenti.com.
Media Contacts
Firefly Aerospace
Xtenti